What to know before buying a Motorhome
Posted by:
Admin
Tags:
Buying motorhome, Motorhome costs, Motorhome checks, Motorhome types
Posted date:
13-04-2021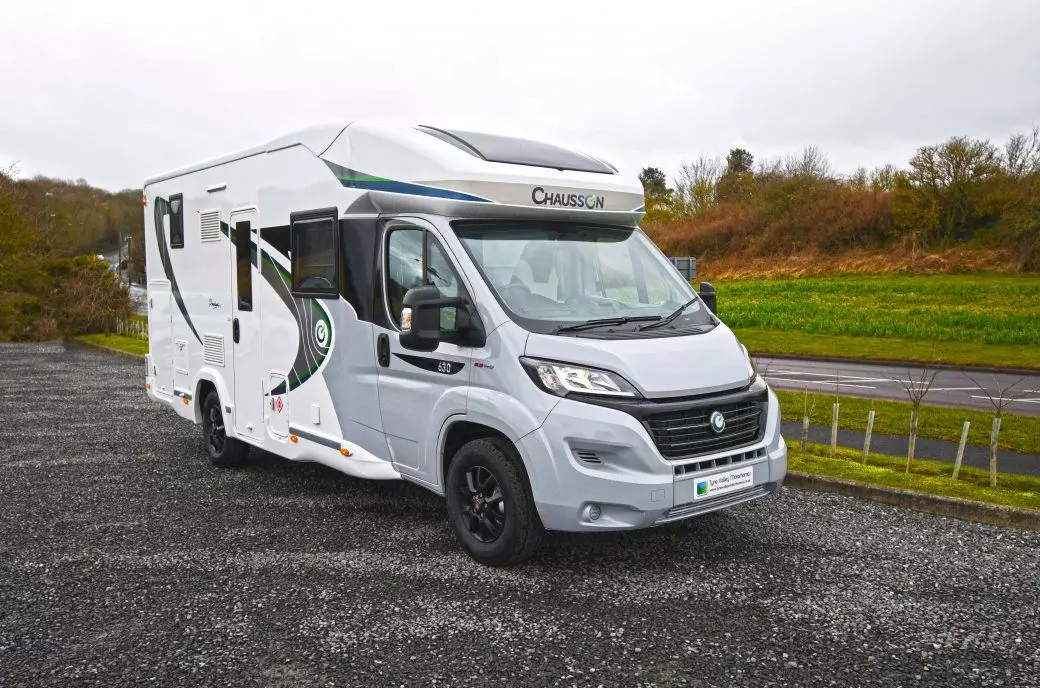 Are you thinking of buying a new motorhome? This article will help you discover what you need to know before buying a motorhome.
What Is The Average Price of a Motorhome?
Average prices and overall costs of UK motorhomes, brand new and old, can drastically vary, so it's complex to provide an exact definitive answer. However, we can still assess both new and old motorhomes' price brackets to discover what motorhome campervan owners typically pay when purchasing from a Motorhome service. For further advice on costs, contact our professionals, and we can happily provide their knowledge.
The Typical Cost of New Motorhomes
Surprisingly, brand-new campervans motorhomes can sometimes cost just as much as bricks-and-mortar starter homes do. At a fundamental level, new two-berth motorhomes can cost around £45,000 up to £50,000 if you intend on buying outright.
If you seek motorhomes designed explicitly to provide comfort for four or more people in your household, you may be looking at prices even higher, upwards of £100,000.
The more people you require places for in your new motorhome, the heavier the vehicle will be. It is something to look at in much further detail; the vehicle's or caravans maximum weight indefinitely increases the price.
Individual use
£ 45,000/ upwards
Family use
£ 100,000/ upwards
The Typical Cost of Used Motorhomes
Second-hand used motorhomes, like most vehicles, are decreased in price. They can often be around £20,000 and are usually of excellent quality and highly reliable, should they have been taken good care of by their previous owners or family.
Motorhomes with more detailed aspects and several more mod-cons often stretch to a cost of around £30,000, and if your budget allows it, it can often make life on the road a little easier.
External Checks Before Buying a Motorhome
It is crucial to take the time to do an external checklist on the motorhome vehicle's exterior condition when it's your first time walking around the showroom or camper. Doing so gives you a good idea of the maintenance the motorhome campervan has received and indicates any underlying problems that could be hiding somewhere.
It's great to check if there are any scratches, loose panels or bumpers and look for any denting or bending that could lie on the caravan's bodywork or its windows. Be aware and look out for anything on the bodywork that appears to be DIY'd or received repair; there could be signs of damage or water ingress.
Check for missing mods or aspects such as exterior lights and filler caps. Be sure to check these petrol and water caps to ensure the keys can fit and lock them. Whilst checking caps, make sure to look for fitted caps on the water and waste tank. If they do not have these included, sellers must contact dealers to assist them with these caps.

On your gearbox, take a look to see if it's a manual gearbox or an automatic one. All drain hoses should connect underneath the vehicle, and if the van or cars don't connect properly, it can cause quite a mess.
Instead of standard car tyres, make sure they have the right camper tyres fitted. Camper tyres must be in good condition; damaged, cracked, or swollen tyres cannot run efficiently and require repair. In case these happen whilst you are out on the road, you must ensure your motorhome comes with a spare wheel/tyre or inflation kit. On your first look around the showroom at your motorhome, check all the paintwork.

Ensure the cab locks manually and automatically and the gas locker, make sure it opens and locks efficiently.

Look all around the exhaust and even underneath it for rust or corrosion. You may even come across an oil leak or any other type of leak, and it's vital to check for these.
It would be best if you had a jack suitable enough to lift your motorhome, so look out for it and make sure you find one. Finally, please make use of checking all of your driving lights, your brakes and your indicator, be sure they are all in good working condition.
Commonly, you must wait lengthy periods after purchasing a motorhome campervan from a showroom or dealer. It is most effective to use this length of time to continue to recheck your motorhome of choice and ensure no further damage within the time you agreed to buy.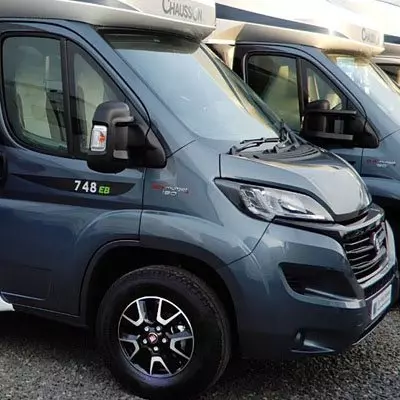 Interior checks before buying a motorhome
Along with checking the exterior, it's also just as essential to seek any layout faults inside the interior and keep a checklist. It's sensible to find as many drawbacks as you can to ensure you're purchasing a vehicle in tip-top shape and will be highly influential on the road and not cause you any emergency stops or difficulty.
Make sure the vehicle is authorised and regulated. Know of anything that isn't working so that you can bring it up to your seller or dealer; this way, you might be within a chance of having it fixed properly, and you can negotiate a more cost-effective price with your seller so that you're not getting less for your money. Second-hand motorhome vehicle will likely have aspects and mods that don't work or have broke.
Find these as fast as you can and take clear note so that your dealers and sellers can work with or improve them. Check fridges, ovens and hobs to make sure they all work and turn off and on. Ensure windows open and close; check if they lock well; the same goes for hab doors. Lightly press on ceiling walls; if they feel spongy or they look discoloured, there could be some leakage or dampness that you must report.
If your motorhome has vents or a sunroof, ensure it is working and not broken; if electric, they can break surprisingly easily. Any solar panels require checking; look to see if it works efficiently.
On the mains electric, ensure your internal electric powers up, lights, heaters, etc. If you have electric beds, search to see if they go up and down; if they don't and are supposed to have that function, report it.
Water pumps are vital to check; make sure it works well and switches off when you turn off the water. Flush the toilet and ensure it flushes so that there are no leaks or blockages, or even unpleasant scents. Ask where your bathroom gets its water from; whether the mains water tank or a filler separate from it, it is best to know whereabouts.
Inspect all your motorhome batteries. Nothing must cover them, touch them or be at risk of anything falling on top of them or its terminals. One battery is for the engine and the other for leisure.
Please search and find out which types of 12V fuses your motorhome uses for its power supply units. If you do not have free spares, you must make a note to get the same. If you don't have any, it could result in not having enough or the correct type to suit the motorhome you're interested in.

Finally, do checks on the habitation area's overall interior and ensure you are happy with it. Are the cushions and beds up to your standard, and are they what you personally require? If there are cushions lost or no ladders or rails on beds you need for young children, to prevent them from rolling out, these are things you must report.
Make checks of your table and chairs legs and ensure they all fit, are a collective set and are in good condition. Lift any carpets to check for creaks, weak points, or dampness. Inspect your blinds and flynets and make sure they all work and do their job.
Types of Motorhome Coachbuilts
If you intend to buy a motorhome/campervan, whether brand-new or second-hand, there are a wide variety of types of motorhomes to choose from. There are a series of brands that can offer each of these motorhomes to you. Tyne Valley Motorhomes can provide you with all three of these fantastic types and can match the best one to suit you and the desires of your friends, team of workers or your family. Carefully consider each style before making your final decision.
Over-cab
Over-Cabs, commonly known as Lutons, are often quite large vehicles. They provide our customers with interiors that stretch over into the driving area to offer extra living and sleeping space. They have an expected amount of facilities that you may expect all perfect motorhomes to have, such as toilet compartments and permanent washrooms. They host beds for up to two to six people inside and are complete with a double berth in the over-cab compartment.
Low profile
Similarly, the low profile style motorhome is much like the over-cab; the main difference is whilst the over-cab has the double berth, the low profile model has storage cupboards instead. Low profile models are of great value, and they handle fuel and consumption a little better, and they are most suitable for couples or smaller amounts of people. Continental low profile coach builds have elevating roof sections over the vehicle's main body, which allows the motorhome to get under height barriers and gain access better and quickly.
A-Class
At the high top of the range, you will find A-Class motorhomes. Designers often build them from the chassis upwards. A motorhome like this is perfect and utterly ideal for long-distance touring and sightseeing holidays. It is the UK largest motorhome type, and it can offer a much more comprehensive space range and provide much more comfortable for its travellers than previous models and competitors. Other coach built motorhomes do not offer as much space and comfort as the A-Class model. Its wider cab allows it to accommodate drop-down roof beds and swivel cab seats to become part of the lounge area.
What accessories do you need for a motorhome?
Suppose you're seeking a realistic home-from-home experience when you travel with your first motorhome. In that case, there can be an extensive list of accessories that you can acquire to ensure the most homely experience. Of course, you don't have to invest in all of these. However, if you want to make sure you feel like your right at home when on the road, these are some tips on the best accessories to take.
Fold-up outdoor furniture
When you've found the perfect location, it's an excellent idea to take fold-up outdoor furniture so that you can spend a few hours parked, soaking up the sun and enjoying the scenery of the new destination. Collapsible furniture is easy storage, highly valuable for either hire or making your own purchase and guaranteed to heighten your experience on the road.
Motorhome awning
Motorhome awning creates so much necessary outside space, regardless of the weather's nature, whether it's wet and windy or perfectly sunny. Awnings in your motorhome can help prevent everyone from cabin fever.
Dashcams
Dashcams are so suitable for recording long road trips. They can provide you with footage of any subsequent incidents or potential accidents you may get into along the way to your destinations. Doing so offers direct evidence to your motorhome insurance provider should you receive any damages or injuries.
Satellite TV
You can pick up any aerial or mini satellite dish for your mobile home. 60cm dishes are most suitable for picking up Sky TV in the UK; however, if you are travelling in mainland Europe, you may want an 80cm dish to pick up many different channels over there.
Kitchen equipment
It is essential to have many frying pans, plates, cups, saucepans, cutlery and glasses. Having plenty will allow you to cook frequently and enjoy all your favourite meals and drinks whilst on the road.
Wi-Fi booster
The desire to keep in continuous contact with our friends and family is very prominent today. Purchasing a Wi-Fi signal booster to make any WhatsApp calls or Skype with your loved ones is highly easily when you have this function.
Portable barbecue
Cooking inside your motorhome every night could get tedious. A portable barbeque is such a great way to ensure your fed in a speedy, straightforward manner. You can griddle meat, fish, and so many fresh vegetables that you can source from local areas.
How fuel-efficient are motorhomes?
You must first factor in the overall fuel consumption into your holiday budget for each time you travel. Look closely at the miles per gallon; Euro Motorhomes start from 22 to 30mpg. Class C is 8 to 12mpg, and Class B is 10 to 25mpg and Class A is 7 to 10pmg. The heavier and more extensive the motorhome you intend on buying, the lower the mpg will be. Its also key to consider the terrain you are driving on and the additional vehicles or accessories you may wish to tow along with you.
Do you need a special driving licence to drive a motorhome?
If you intend to purchase a motorhome, registered in England, weighing no more than 7.5 tonnes and have passed your driving test in the UK before January 1997, you do not require a special driving licence.
Passing it afterwards may restrict you and what you are limited to drive in the UK. You may be unable to drive or test-drive a motorhome that weighs no more than 3.5 tonnes.
If you want to drive a fully-fledged RV, you require an LGV driving test before any motorhomes' insurers can validate your licence and registration number, or the financial conduct authority can regulate it.
If you're one of the buyers or just interested in purchasing a motorhome and need any further advice or have any questions about motorhomes, licences or extra equipment, give us a call today at Tyne Valley Motorhomes or email us online and we'll be happy to help.
---
Are you thinking of buying a Motorhome in the Newcastle area? We offer used and new motorhome stock from the leading brands.