Tips For Choosing A Motorhome
Posted by:
Admin
Tags:
choosing a motorhome, guide, motorhomes, types of motorhome, tips
Posted date:
09-08-2021
Do you want to find out some top tips for choosing a motorhome? We have created this article to help you make the right decision when buying a motorhome that is right for you.
How to choose the right motorhome
There's plenty of choices when it comes to purchasing the perfect motorhome for you in the UK due to the wide variety on sale of leading motorhome manufacturers and companies across the market.
With such an extensive selection, take time to note down exactly what you're looking for in travel, design, and accommodation.
We advise that, if this is a first time purchase, do lots of research into several areas such as security, registration, desired designs, engine maintenance, and interior and have a good look around in stores and at showrooms so that you can make the best decision for yourself and your number of occupants.

Ensure you think about what times of year you'd like to use your caravan, as this will help you make the best decision and decipher the interior style and aspects necessary to suit the climate and budget figure.
Types Of Motorhomes
Many motorhomes are often called "coachbuilt", which refers to when the motorhome's manufacturer or coachbuilder takes the chassis of a vehicle and builds a living space onto that. However, it can be tough to decide or even differentiate which of these coach builds would perfectly suit you as there are many different types to choose from.

The most significant difference between an over-cab or a low-profile motorhome is by looking at the front. The over-cab motorhome often has a considerable front cover hanging over the cab; however, a low-profile caravan does not have this cover.

The low-profile campervan harnesses a sleek design, offering much better fuel economy and makes it highly aerodynamic. The low-profile type of motorhome model is often much lighter, making it more ideally suited to a 3,500kg weight limited chassis that is authorised and license friendly.

There are various benefits to choosing coach builds over panel van conversions; for example, you can better use the interior space with the square body shape. Another advantage is the sandwich constructions along the floor, and side panels allow for much more effective insulation. It would help if you didn't forget that it is incredibly time-consuming to build a coachbuilt motorhome habitation area onto the canvas of the black chassis instead of converting a panel van. The amount of time taken is reflected through a much higher price.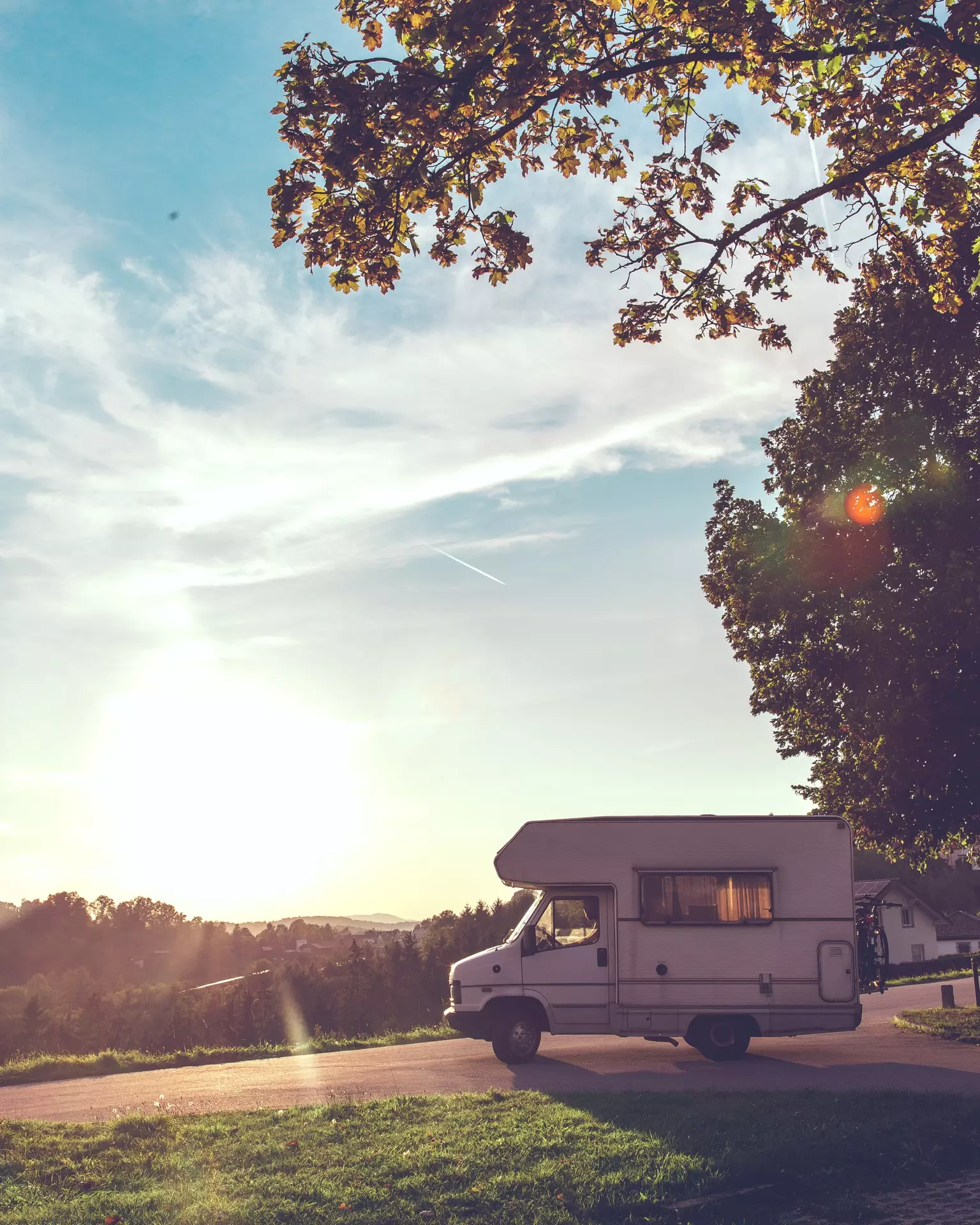 Low-profile motorhomes
Low-profile motorhomes widely vary in length; they can often begin from around 5.5 metres up to about 8 metres. Alongside the length, the width also varies from approximately 2.1 metres to around 2.49 metres, so the best option is a slimline campervan model.
The slimline is designed under 2.25 metres wide; this is also the right motorhome model for those who wish to travel through Europe on narrow rural roads and wild courses.
Overcab motorhomes
Many people are attracted to over-cab style motorhomes, one of which is the Luton, referring to the double bed space available in the over-cab section.
First, the headroom they provide can be incredibly tight in other motorhome and campervan models; however, the Luton found in the over-cabs make for excellent sleeping quarters or den for the children.
Instead of low-profile beds, which often offer drop-down beds, the over-cab Luton option leaves your lounge or living area completely undisturbed by beds.

Such is why over-cabs are often most popular with families with young children but with heights generally stretching around 2-3 metres.
Basic over-cabs tend to be heavier and larger than 3,500kg, which is the weight restriction for plenty of low-profile motorhomes. However, if you had passed your driving test way before January 1997, you are eligible to drive vehicles that weigh around 7,500kg and genuinely get the most out of your caravan model systems.
A-class motorhomes
The A-class motorhomes are a more luxury version of a motorhome, designed with a chassis cowl and no other external bodywork from the vehicle's base.
The dashboard does not have many changes; however, the motorhome company manufactures and fully processes all the vehicle's exterior bodywork.

There are so many apparent advantages for motorhome buyers with A-class vehicles, such as much more space in the cab. It offers a drop-down bed that can overlap over the cab seats and doesn't interrupt the lounge area that it can with low-profile motorhomes. Another benefit is the fully insulated bodywork that it can offer.

The A-class motorhome allows for fantastic camping trips to the Alps, up mountains to enjoy a stunning widescreen view of the beautiful scenery. The A-class offers a panoramic view ideal for driving, even though the extra width can be a daunting pursuit. These almost bus-like mirrors hung from the top of the vehicle are also great for manoeuvring.
What's the difference between a campervan and a motorhome?

The campervan, caravan camper, or pop-top is a high-top paneled van that manufacturers have converted to accommodate enough living space for the maximum weight or amount of occupants.

However, the motorhome or campervan is a coach-built vehicle that offers a living area built onto the base vehicle chassis.
Layouts and facilities
The design of many motorhome interiors is based on a compromise of owner specification and space.
You must strive to consider the number of occupants sleeping in your campervan, where their designated seats and essential seat belts for travel will be, and provide space for both bathroom and kitchen appliances like the toilet, showers, sinks, and other equipment facilities.

It is far easier to store and park a smaller motorhome. However, suppose you have a more considerable amount of occupants. In that case, you'll want to opt for a bigger house-like motorhome that will offer plenty more interior space, day and night, that will better suit you and your family, as well as long journeys throughout Europe.

Numerous motorhomes can also accept awning roofs, and the shelter helps to add extra living space onto the rear. Similarly, various owners like to add more versatility to their vehicles by adding extra storage boxes, bike racks, and many more.

Also, it may be good when looking at the layout and facilities of motorhomes; consider how often you'll be using your first motorhome vehicle. For example, if you are seeking a caravan for extensive winter usage, you'll want to ensure that your plumbing and water tanks can cope and withstand the levels of extreme cold.
In locations with much hotter climates, you may desire an air-conditioning unit that you can place in the living quarters to keep friends and families members nice and cool during summer camping trips or weekends away.
Buying A Motorhome Tips

There are numerous ways to go about choosing the perfect motorhome for you and your household to enjoy. Many different aspects require much consideration, so here is a buyers guide list of the best tips to assist you in purchasing motorhomes and campervans:
Consider the time when buying a motorhome. Price ranges are often likely to be highest around the springtime, before Easter hits; this is because touring season and half-term begin around this time.
They are often lower in costs at the end of the season; however, the best time to purchase a new motorhome is during the quieter seasons like autumn and winter, as it can save you plenty of money. It may also incur any additional costs that are expected for storage space.
Once you have successfully determined your preferred layout and budget, a great tip is to make a list of all the necessary fittings and features that you desire to have in your ideal caravan. You could measure these items against your budget and decipher whether they are essentials. Bear in mind; you may also wish to buy a used motorhome model that already has all the essentials you've been looking for; this will also allow you to save on your holiday.
Another fantastic thing to do is to consider hiring so that you can essentially try before you buy a motorhome. Such lets you test drive the touring experience to make the best decision in the layout you feel suits you the most.
Go to any motorhome hire company online website that offers its services and vehicles to the UK. You will find all the necessary contact details and addresses to visit the showroom, receive advice from professional sellers, or free quotes for motorhome campervans.
Ensure you make notes of the perfect, exact model you want and those accessories you liked that you have viewed; it'll be easier to match them when you visit motorhome showrooms.
Contact HPI to check if any secondhand motorhomes you wish to purchase, hire, or are interested in have any outstanding payments from dealer parts or mechanisms that have been fixed in the past, insurance payments, etc.
Take your time to look into the potential costs and the logistics for repairs and replacements. Numerous items or appliance equipment things like fridges, oven, heaters, TV's can often be easy to source. However, replacement body panels, doors, or small objects can often be rather tricky to find, especially for vehicle models that aren't sold or made anymore, as it will be challenging to find a match during repairs. Replacement parts that don't accurately could have a knock-on effect on the overall lifespan.

Consider the interior and exterior maintenance, and you want to ensure you look after your motorhome regularly, especially in the weeks before using it. Check for damp, mold, and any other damages that could occur. Ensure you are equipped to properly maintain your vehicle before you purchase it or hire it for long periods.
---
Are you thinking of buying a Motorhome in the Newcastle area? We offer used and new motorhome stock from the leading brands.