New Motorhomes
An Auto-Trail motorhome is ideal for those who prefer their comforts whilst being away. There are many motorhome brands designed for a range of party sizes; they are the perfect home away from home with particular focuses on warmth, comfort and quality.
Used Motorhomes
A used Auto-Trail motorhome can offer excellent value for money. All of our used motorhomes have been serviced to the highest standard by our specialist in-house engineers. They function like a new motorhome but only at a fraction of the price.
Motorhome Hire
There are many reasons why you may want hire an Auto-Trail motorhome. Perhaps you'd like the comfort on your adventures but they don't justify the commitment, or maybe you'd like to try it out first. For whatever reason, we have a range a motorhomes available and are sure to have a perfect model for you.
Auto-Trail Motorhome Dealers In Newcastle
Are you looking for Auto-Trail motorhome dealers In Newcastle? Auto-Trail Sales is a family-run business with over 18 years of experience in sales, hire and the maintenance of Auto-Trail motorhomes. We are one of the leading specialists in the with a well-established reputation.
---
Conveniently based in Burnopfield, near Newcastle, our central location allows ease of access for customers all across the North East. Our secure site exhibits over 100 motorhomes, all maintained to a high standard to browse at your leisure.
We are proud stockists of Hymer, Chausson and Auto-Trail and the exclusive UK supplier of Elddis Signature motorhomes. All of our staff are highly knowledgeable and ready to help with any questions or queries you may have. You can contact us on 01207 272777 or use the contact form to forward your query. Whether you have a specific model in mind, or a first-time buyer looking for something which suits your personal needs, we're dedicated to finding the perfect motorhome for you.
Where can I buy New And Used Motorhomes?
If you find yourself asking, "where can I buy new and used motorhomes?", look no further than Auto-Trail Sales. With over 100 vehicles on display on our site, we are confident that we'll have something for you. Motorhomes are ideal for those who love their comforts while they are away. We are stockists for well-known brands in the industry and are always up to date with the latest models.
Almost all motorhomes are designed with luxury, comfort and warmth in mind. Despite the limited size, most motorhomes are more spacious than the impression from the exterior. Almost always equipped with state of the art facilities, they are the perfect way to embark on an adventure without compromising modern comforts.
Used motorhomes offer excellent value for money; much like cars, motorhome values depreciate heavily in the first few years of its life. All of our used motorhome stock is serviced to industry standard by our specialist in-house engineer and come with a warranty guarantee for maximum peace of mind.

Find A Motorhome Dealer Near Me
At our facility, we have over 100 new and used motorhomes for display. Our friendly team is always happy to assist with any questions and queries you may have. Our central location in the North East means we are easily accessible and we welcome all customers to personally view and inspect the vehicle before making a purchasing decision.
We also specialise in the repair, servicing and maintenance of motorhomes. Because of this, we readily stock a range of accessories. When you purchase a motorhome from us, it will always be fully serviced by our specialist in-house engineering team to a habitable standard. Our ongoing servicing plans and aftersales support mean you can rest at ease knowing you are guaranteed years of enjoyment out of the vehicle.
Auto-Trail Motorhomes
Established and manufactured proudly in the UK, Auto-Trail motorhomes are one of the most well-known brands in the motorhome industry. Since founded in the 1980s, Auto-Trail's dedication to quality and comfort has led to its affirmation in being one of the leaders in the industry. Because they are a well-established British manufacturer, they have many loyal customers in the UK, especially due to their excellent customer service.
At Auto-Trail Sales, we have many Auto-Trail motorhomes on display amongst our stock. They are one of the most enquired after brand due to their variety of range and models. Auto-Trail motorhomes are innovative, and each new model features the latest technology, such as the addition of solar panels which helps to power vehicle without an external mains connection. They have also recently launched "My Auto-Trail", which is an online portal for owners to easily monitor information, the current status and even the current location of their motorhome from their smart phones.
Hymer Motorhomes
Initially founded in 1923 in a small town in Germany, Hymer has since re-branded and evolved to be a household brand of motorhomes. Their extensive history firmly sets their position as a pioneer in the trade. They are often regarded as trendsetters with particular focuses on technology, design and comfort.
We are proud stockist of all ranges of Hymer motorhomes, including their latest 2018 Hymermobils and Hymercar models. Now celebrating their 60th year of successful trading, there are special Jubilee editions of Hymer motorhome and packages available. Available in a variety of berth options, a Hymer motorhome is an excellent investment for seasoned and first-time buyers. They are designed with quality and innovative safety features in mind, perfect for families of any size. Our friendly team is always available to answer any questions or provide any additional information about a motorhome in our stock. We will listen to your requirements and find a model which suit your needs best.
Elddis Motorhomes
Arguably the most well-known brand of motorhome manufacturers, Elddis is highly recognisable within the UK. Being a traditional British company, you can rely on them for a high-quality motorhome that will guarantee satisfaction and enjoyment for years. Utilising their unique SoLid structural bonding system, their motorhomes are characteristically lightweight, easy to handle and weather resistant.
We have a great working relationship with Elddis- we are immensely proud to be the exclusive dealer for their Signature range, an addition to the Elddis family in 2017. Based on the popular Elddis Autoquest but with additional exclusive features such as azzuro Blue metallic cab and colour-coded bumpers, upgraded heki rooflights and bespoke graphics and decals featuring our company name. An Elddis motorhome offers excellent value for money, which make them an ideal investment for first-time buyers. They also manufacture the leading range of caravans in the UK.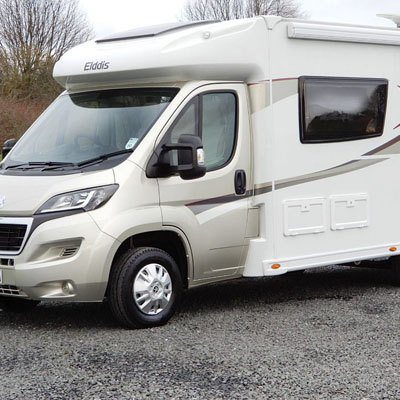 Chausson Motorhomes
With a rich history of 36 years in trading, Chausson is a French-based brand with recognition throughout Europe. Their range of motorhomes are synonymous with quality, reliability and most of all, indescribable charm and style. One of the leading names in the industry, their vehicles are manufactured at one of the largest plant sites in Europe with care and precision.
Chausson motorhomes have dealers throughout Europe and Auto-Trail Sales are proud to be one of them. Their ranges of motorhomes offer great flexibility and flair. Their Low Profile range is compact and snug, ideal for couples or small families which doesn't require much space. Their largest motorhome, the Overcab range, boasts a generous seven berths with a fitted kitchen and plenty of storage space- all within 7 meters. Their vehicles are specially engineered to allow for easy handling, even on their larger vehicles.

Cheap Motorhomes For Sale
A used motorhome means a compromise with your wallet, but it does not mean a compromise on the quality. If you are looking for cheap motorhomes for sale, look no further than Auto-Trail Sales. Our used motorhomes are serviced with due care and attention by our engineers to the best condition possible.
Because of our experience in the industry, you can trust us to value our motorhomes fairly. We offer a competitive price and flexible payment options to make the journey to ownership as straightforward as possible. Our expert aftersales team is also available to assist in finding your way around your new motorhome and offer guidance if you require. Over the last 18 years, we have supplied countless motorhomes to happy customers throughout the UK. We are regular exhibitors at the Motorhome and Caravan Show in Birmingham NEC. We have received many excellent reviews over the years and have become one of the leading motorhome specialists in the country.
If you require Auto-Trail motorhome dealers In Newcastle contact us today on 01207 272777.

Auto-Trail Sales
Crookgate Garage
Burnopfield
Newcatle Upon Tyne
Durham
NE16 6NS